How Much are you losing from a Leaking Home?
Based on the surveys and studies conducted by the U.S Department of Energy, almost 42% of the household utility bill is spent on heating and cooling charges. When a particular house is poorly insulated, 42% can upsurge enormously. 
Your HVAC system, also known as Heating, Ventilation, and Air Conditioning systems, works intensely to heat or cool your home to have the energy escape through your crawlspace, walls, and attic. Proper insulation gives resistance to heat flow and reduces your heating and cooling expenses by an estimated average of 20%. 
In short, you may spend a tremendous amount of money if your home has an insufficient amount of insulation (or the wrong type of insulation) or if your insulation is not correctly installed. 
Attic Insulation in Pleasanton, CA
Installing attic insulation requires a lot of time, effort, and expertise. With its complex procedures, it requires you to deal with professionals like us. Attics may have certain conditions. Typical examples are rotting attic rafters, rodent infestation, minimal attic ventilation, and harmful materials, making the job risky for you.
If you are having troubles with your attic insulation, our experienced insulation professionals can be of great help. As the best foam insulation company, we carry out efficient and diligent work to ensure that each job is accurately well done. We do this without forcing you to spend a massive amount of dime. Therefore, you and your family can enjoy a comfortable and consistent temperature throughout the season.
The two types of insulation Attic Cleaning 360 install in attics are the loose-fill and batt insulation types. Batt insulation is better for areas without many pipes, wires, or other barriers because these barriers in the wall involve cutting the insulation to fit from place to place. 
As a result, it causes insulation gaps which negatively affect its function to shield the exterior from the air. On the other hand, some of the loose-fill insulation is less expensive to install than batt insulation. It also provides better coverage when properly installed. 
As the leading general insulation company, we guarantee to help you decide which type of insulation is best for your home and your attic!
Wall Insulation
Suppose your attic is appropriately insulated and air-sealed, and you are still experiencing high energy bills and fluctuating temperatures. In that case, there's a chance that you need to add insulation to the exterior walls of your house and air-seal any entry points. Do you know the reason why? It is because almost 35% of energy escapes through your house walls.
You may use blow-in insulation in your home, which will give substantial air sealing and is less invasive than using batt insulation when installed with a compressed pack tactic. At our company, we make a three-inch diameter shack to inject the insulation. We also help with repairs, if needed. If your wall cavity is open, it is much faster and simpler to install butt insulation.
Crawl Space Insulation
Nearly 15% of your home energy escapes through the floors and basement or out of your crawlspace. 
Basements and crawlspaces are commonly disregarded when it comes to home modification and improvement. Heat vanishes in all directions. Foundation materials such as stone and concrete have no insulating value and will instantly allow a substantial energy loss. 
Stop worrying about this issue and contact the insulation company near me now!
Air Sealing
Before you add or replace your insulation, it is a must to ensure that your home is appropriately air-sealed. In most cases, air leakage takes place when outside air comes in, and conditioned air leaves your house irrepressibly through cracks and openings in your crawlspace, walls, and attic.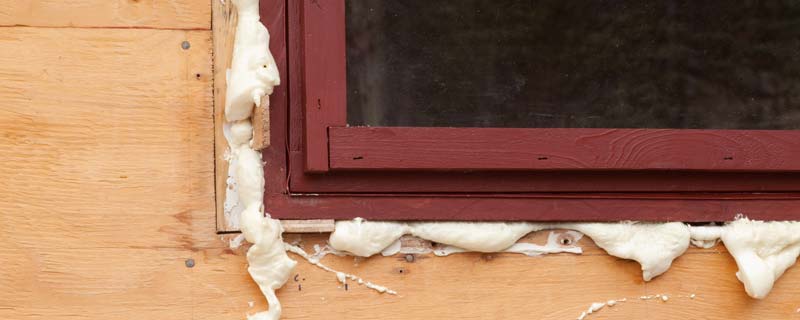 Besides, you have to remember that leakage also happens with your duct system. When ducts are poorly sealed or insulated, then they are often contributing to higher energy bills. This is why it is very crucial to hire a professional like us. As one of the best spray insulation companies, we can help you detect all entry points or exist to reduce air leakage.
Lessening the amount of air that leaks into and out of your house are a cheaper way to cut heating and cooling costs. This can also improve durability, create a healthier indoor environment, and increase comfort. Above all, it provides a more energy-efficient home. 
Weatherstripping and caulking are two effective air-sealing techniques that provide instant returns on investment – usually one or less than a year.
Rodent Proofing
Like humans, Rodents opt to escape from cold temperatures and search for shelter in a comfortable and warm area. In most cases, that area will be your attic or crawl space. 
Rodents are agile, small, and experts at climbing. These make them easy to squeeze their way into your area. They also chew on an endless amount of your stuff, such as your electrical wiring, insulation, and duct system. They can also spread diseases to your pets and family.
If rodents make their way into your space, it means that there are current access points that need to be addressed. Therefore, rodent proofing helps make your area challenging to invade and less attractive to rodents.
Insulation Removal in Pleasanton, CA
Removing and replacing damaged or old insulation will improve indoor air quality and make your space more energy-efficient. 
Your insulation's effectiveness will reduce naturally as time passes by and it is exposed to external factors like rodents. Rotten flesh from dead animals, urine, and feces spoil the insulation. These also bring unwanted odors. The contaminated dust of old insulation may enter your homes' living areas through wall cavities and ceiling penetrations.
As insulation experts, we will help you effectively and safely remove your old insulation. We will also replace it with fresh and new insulation to boost your home's comfort and efficiency.
Radiant Barrier
Radiant barriers installed in homes, usually in attics, help lessen summer heat gain and reduce cooling costs by dazzling glowing heat than absorbing it. 
A radiant barrier effectively works when it is vertical to the radiant energy striking it. Additionally, the higher the temperature difference between the radiant obstacle material's sides, the greater the advantages a radiant obstacle can offer.
Searching for the best insulation companies near me is finally over! Contact us and see how we work!